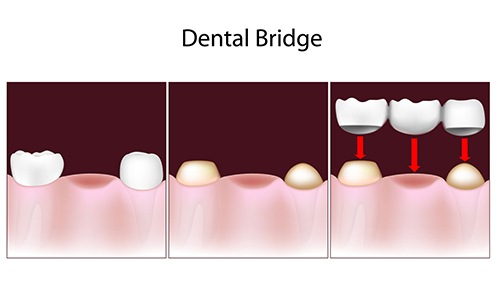 A dental bridge is used to help fill a gap in your smile caused by a missing tooth. This prosthetic consists of an artificial tooth placed between two dental crowns. These crowns will be placed on the teeth on either side of the missing tooth, literally bridging the gap in your smile.
Reasons for a Dental Bridge
Below are a few reasons why you may need a dental bridge:
Fill the space caused by a missing tooth
Maintain your facial shape
Restore the ability to speak and eat properly
Prevent the remaining teeth from shifting out of position in the mouth
Restore the beauty of your smile
Receiving your dental bridge will take two dental appointments. During the first visit to our office, the teeth on either side of the gap (called the abutment teeth) will be prepared for dental crowns. Once this is done, Dr. Joshua Kelly will take impressions of your teeth to serve as a model for your dental bridge, the artificial tooth, and dental crowns to be created. A temporary bridge will then be placed in order to protect the abutment teeth while the permanent bridge is being created.
At the second appointment, the temporary bridge will be removed and the permanent one will be placed. The permanent bridge will be checked and any necessary adjustments will be made before it's cemented into place.
Caring for your dental bridge is the same as caring for your natural teeth. Make sure you're brushing your appliance at least twice a day with fluoride toothpaste, floss each day, and visit Severance Dental every six months for a dental cleaning and exam.
To see if you're a good candidate for a dental bridge, please contact Severance Dental. We're located in Severance, Colorado, but provide dental services for those in Windsor, Greeley, Eaton, Ault, Timnath, and Fort Collins, Colorado.
Our Blog
We don't only care about your smile, We care about you! Follow us on our blog to review trending topic and resources for oral care.